The Gulf of Guinea region has over the years achieved notoriety as a hot spot for criminal maritime activities including piracy, armed robbery at sea and oil bunkering, among others despite its rich blue economy. In responding to these, the Yaoundé Code of Conduct and its its structures was established in 2013. This stipulated a stratagem where regional governments share information and collaborate. In essence, the Architecture bridges the gap between the two regional information sharing and the two coordinating Centres – CRESMAC for states in Central Africa and CRESMAO for states in West Africa. This will be achieved through the Inter-regional Coordination Centre. Under the Yaoundé Architecture, member states are categorized into five operational zones. ECOWAS and ECCAS and GGC have oversight at a strategic level of the entire structure. Seven years post establishment of the Yaoundé Architecture challenges in its implementation, information sharing, lack of trust and capacity in enforcement has remained persistent. Evidently, this has been exacerbated by the novel COVID-19 pandemic in 2020.
To this end and in line with the continuing implementation of the Danish Maritime project on Enhancing Regional Research, Capacity Building and Convening of Stakeholders Towards a Safer Maritime Domain in the Gulf of Guinea, the Second Rotating Technical Meeting was organized on October, 5th 2020 via zoom due to lock down restriction during the COVID-19 pandemic. This meeting sought to converge relevant institutions and discuss progress made so far, challenges encountered and brainstorm on possible solutions.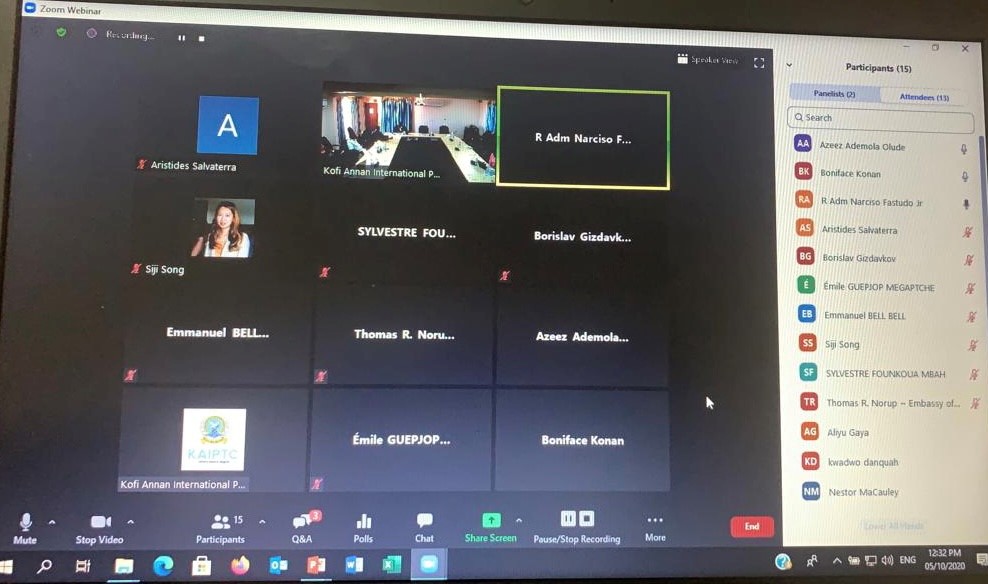 The objective of this dialogue series was to institutionalize a platform for regular and meaningful dialogue where collaborative and consensus based decisions would inform national and regional maritime decision making. International and regional maritime organisations including the UNODC, INTERPOL, ICC, ECCAS, ECOWAS, CRESMAC and CRESMAO were present.
Participating institutions made presentations on the following themes:
Implementation of The YCC – Information Sharing and Trust Building
Status of ECOWAS Integrated Maritime Strategy- Challenges and The Way Forward
Enhancing Maritime Security Collaboration Under YCC: Strategies and National Focal Points in ECOWAS and ECCAS
Prosecuting Maritime Crime Security Collaboration Under The YCC: Challenges and Way Forward
Enhancing International Collaboration On Maritime Policing: Best Practices
It is important to highlight that all institutions emphasized on the need to intensify the collective approach in addressing maritime insecurity by enhancing the professionalism of maritime practitioners in the Gulf of Guinea.